This year has been a very productive year for Malta Virtual Mall, hitting milestone after milestone and building strong relationships with clients. From one point of view, our continuously evolving project has taken steps towards a more sustainable business, but from a different point of view – and probably the most important point of view – we have helped thousands of people to source what they need from local online shops.
We're incredibly proud of what has been accomplished in such a small amount of time, but it pales in comparison with the plans we have for the future.
Needless to say, we have big ideas for Malta Virtual Mall and we hope that everyone will come along for the journey because with everything we do – we have always and will always keep local shoppers and local businesses at the heart of all our ideas.
A Sustainable-ish Business Model
When we started working on Malta Virtual Mall back in April 2020, we set ourselves some expectations. We decided that we will not be making any money out of this project for a while. We only had 2 goals:
To create a product that would be helpful to both local shoppers and local businesses
To enjoy the experience of creating something original
We always had plans to scale things up eventually, but if or when that day came, wasn't much of a concern – the only concern was achieving these two goals.
Since then, what we hoped would happen; did happen and many people have flocked to our website for their own reasons, such as:
To use our search function to source things locally
To discover shops that they had never ever heard of before
To participate in a competition
To read one of our blog posts
To do some virtual window shopping
Or simply out of curiosity
We are proud to say that as of this year, in 2021 we have started to sell some digital marketing products – thus subsidising some of the expenses we have incurred. This means that we should be in a stronger position to continue to improve on Malta Virtual Mall to make it an even more useful tool for everyone.
Milestones and Achievements
We're delighted to have seen that Malta Virtual Mall has been useful to an increasing number of users, with people visiting the website over 60,000 times in 2021 alone – making it over 74,000 times since its launch in May 2020.
We like to think that people enjoyed what they were seeing because they clicked through the pages over 248,000 times in 2021 and over 357,000 times since launch.
Probably our favourite milestone of all is the one which reflects how many times we helped people find other websites. In fact, shoppers visited local online shops over 56,000 times in 2021 by clicking on links on MVM. This has happened over 67,000 times since we launched.
People have also found our search function useful – with it having been used over 10,000 times in 2021 alone.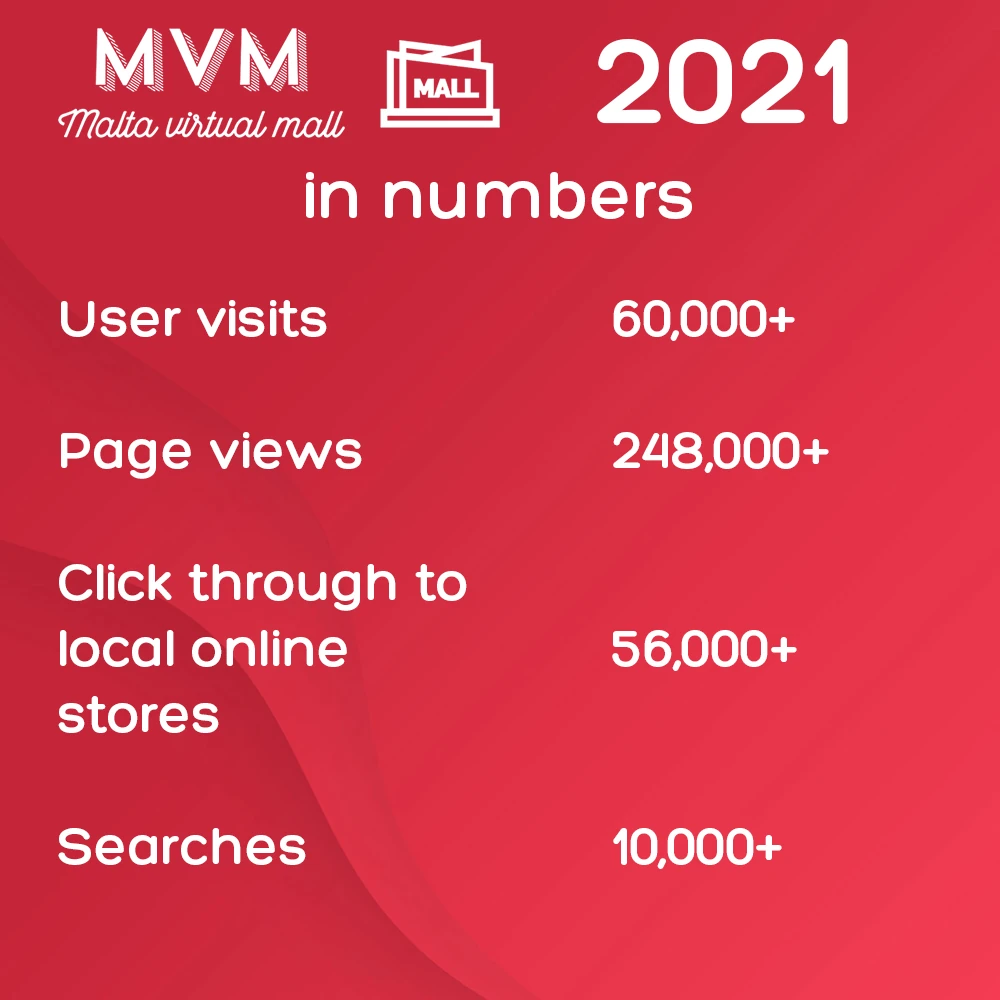 Through continuous research and effort from our end, we have managed to find and list 668 local eCommerce websites and categorised them as best we could for your ease while shopping.
What Caught Your Eye
While we are proud of every part of our website and have no favourites; apparently you do!
Here are some of the trends we were able to identify in 2021.
Most common searches
These were the most popular search terms in 2021 which visitors of MVM used when searching using our search function.
Most common landing pages
These were the most common landing pages of 2021. Meaning that from all links which were clicked to bring shoppers to MVM, these were the most common FIRST pages that were seen.
Most common Category pages
Either through the links users clicked from one of our marketing campaigns or simply by browsing our website, these were the pages most frequently visited in 2021.
Our Sincerest Gratitude
One of the greatest highlights of 2021 has been the relationships that we have built.
We have tried to get our message out there as effectively and creatively as we could, within the limitations of what we could afford.
Sure, many of our emails went unanswered or un-acknowledged, but every time we found shops who understood our concept and the value of what we were doing, believed in us and trusted us to promote their brand on MVM, this made everything worthwhile.
It is through these partners that we can continue to keep MVM strong and improve it to offer shoppers the best possible experience.
For this, we would like to offer our sincerest gratitude to all the shops who partnered with us in 2021. We wish them lots of success for the future of their businesses and we hope to see them innovate and keep offering their clients the best service possible.
Our 2021 Partners
What The Future Looks Like
MVM has set 3 main achievable goals for 2022.
Crank up the Marketing
We are so encouraged by the feedback which we have received since launching MVM, that we really believe we are in a position to:
Help more and more people source whatever they need locally
Help people to find some amazing shops which they might otherwise have never found
Generally, improve the local eCommerce competitiveness
In order to do this, we will be scaling up our marketing efforts in order to reach more people. We are very focussed on keeping with our existing strategy of finding people who are already looking for what we can offer – and trying to not bother anyone with flashy ads while they're trying to do other things.
Bringing Discounts to You
Our 2nd goal is something that we are extremely excited about.
We have been in touch with the listed shops on our website and we are proud to say that in 2022 we will be creating a Promo Code Page.
This will be a page where people can come and find discounts codes from various local online shops which are listed on MVM. We already have a number of shops who have registered their interest and we feel confident that others will also join.
This is a fantastic opportunity for shoppers to save money when shopping online!
Watch any of our spaces to be the first to know when we launch this project.
Website Improvements
We are currently working on getting more back-end monitoring in place.
Unfortunately, not every local online shop makes it; especially over the past two years. Sometimes shops have simply found their eCommerce platform to be too costly and cannot afford to keep it running.
This means that from time to time there will be some dead-links on MVM.
Right now, we are continuously doing our best to catch these manually and remove them as soon as possible, however we are working on automating this process so that we will be alerted as soon as possible when it happens and this will allow us to remove them before they cause a nuisance to shoppers.
The truth is that no one can predict the future, but beyond 2022; at MVM we are shooting for the stars and our end goal is to tackle each and every obstacle to local eCommerce. We know what the pain points are and we are setting our sights on destroying those pain points to make our local eCommerce industry competitive against the strong global eCommerce platforms.
Merry Christmas to All!
And a Happy New Year!!